Looking for a great teen book with either low or no romance? Romance for teen readers is often a great part of the story, but there is an an equal amount of teens who don't want to read romance. Here is a short list of go-to reading recommendations for both types of readers:
Books with no romance, focused on a variety of topics:
Contagion
by Erin Bowman
Responding to a distress call on the distant planet of Achlys, Thea Sadik and her search-and-rescue crew are confronted by a zombie-like outbreak that forces them to uncover a monstrous enemy.
The Girl From the Well by Rin Chupeco
Okiku has wandered the world for centuries, freeing the innocent ghosts of the murdered-dead and taking the lives of killers with the vengeance they are due, but when she meets Tark she knows the moody teen with the series of intricate tattoos is not a monster and needs to be freed from the demonic malevolence that clings to him.
The Cheerleaders by Kara Thomas
The surviving sister of a cheerleader who was one of five girls who died violently years earlier realizes during a memory-laden memorial that the tragedies may have been more sinister.
Books with low romance, minor sub-plots, and brief scenes of romance:
You Don't Know Me But I Know You by Rebecca Barrow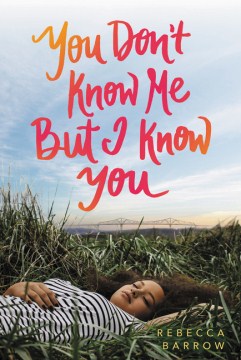 Ignoring a letter written years earlier by her biological mother, Audrey attempts to fill in the missing pieces of her life until an unexpected pregnancy compels her to learn the truth about the history and choices that led to her own existence.
500 Words or Less by Juleah del Rosario
High school senior Nic, seventeen, tries to salvage her tattered reputation by helping her Ivy League-obsessed classmates with college admission essays and finds herself in the process.
On the Edge of Gone by Corrine Duyvis
In Amsterdam,
the
Netherlands, in 2034, a comet is due to hit the
Earth within the
hour and Denise, who is autistic, must try to find her missing sister and help her neglectful, undependable mother safely aboard a spaceship.
All books mentioned are located in the Teen Scene.